Extreme Air Sports in France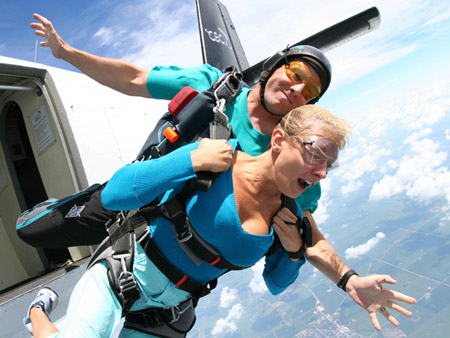 We offer you trying the most extreme air sports on Cote d'Azur in France.
Bungee jumping is a very common extreme sport which you can also try out on Cote d'Azur in France! Bungee jumping is compared with Russian rope swing, but in fact, these two notions have nothing in common. When jumping, you have one of your legs tied to a long rope. The rope is stretching since it consists of rubber, so you may be bouncing with your head down for a while.
Rope jumping is a kind of jumping too, but this jumping includes a complex system of amortization. Jumps may differ from each other. It may be free and not free fall. Experienced sportsmen manage to perform various tricks while jumping, which is quite thrilling.
With sky-jumping you will gain a lot of great memories about the famous and beautiful French Riviera! If you haven't experienced jumping yet, this may become a great opportunity to learn! Experienced coaches will help you and teach you. The key is your desire and some courage! Watching aerial Riviera view is worth leaving all doubts and fears at home!
Ballooning is another sport which is impossible to miss! Now you don't jump anywhere, but fly and feast your eyes with the picturesque amenities of Southern France.  Shortly after the takeoff you will be offered a glass of champagne to recover from the obtained stress and celebrate the flight. We encourage you to dress warm as you will be in the open and blasting space.
Ram-air gliding parachute flight is a favorite sport of many tourists. You can "fly" by yourself or with your friends. To keep your memories unforgettable we may make a video about your flight – the whole flight will be filmed in excellent quality. For those who "fly" for the first time we have a qualified instructor.  Having completed the training, you receive a certificate. Have you ever dreamt of seeing France from a bird's eye view? No problem!
If you are interested in the extreme air sports on the French Riviera. You may also fill out the form mentioning the information of interest. Once we receive your request, we will contact you as soon as possible.