Cannes Pyrotechnic Art Festival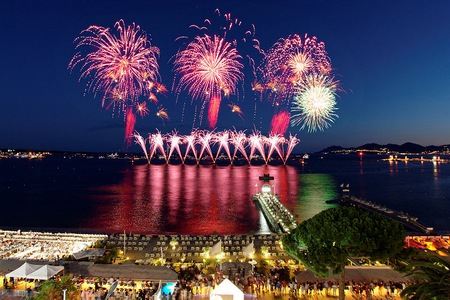 The Cannes Pyrotechnic Art Festival is one of the most known and popular competitive festivals in the sphere of pyrotechnic art which takes place over La Napoule Gulf. The festival is traditionally held in the summer months, namely July and August. The festival is so well-known that its participants arrive from many countries in order to compete in the honest fight and find out who is worth to be a winner.
The history of Cannes Pyrotechnic Festival is quite rich and extends back over several decades. The competition in 1967, when contestants who were fighting for a title of the best pyrotechnic  show organizer met in a spectacular and fascinating fight on the bank of the Cannes gulf, may be considered as a debut pyrotechnician performance of this festival. Skillful combination of a light play together with fire and music are reckoned to be the highlight of the festival. Music not only matches the grandiose fireworks perfectly, but also emphasizes a main plan of the composition, turning the performance into a real work of art filled with a creative and conceptual sense.
The days of the fireworks festival leave the indelible impression in the guests' hearts. However, the main celebration is still ahead as the most magnificent salute can be seen only after the best pyrotechnician team has been awarded. The performance traditionally starts at ten o'clock in the evening and lasts for half an hour minimum.
The jury that consists of eight people competent at pyrotechnic details makes a comprehensive assessment of the each team's performance, taking into consideration numerous details that might be imperceptible to the eyes of inexperienced spectators. Well-known people who have become famous in the world of art, sports or cinema, as well as journalists and known politicians usually become judges. However, the leading role is unconditionally played by the Mayor or his Representative.
We will assist you with:
Please fill out the application form indicating your preferences and we'll contact you as soon as possible.