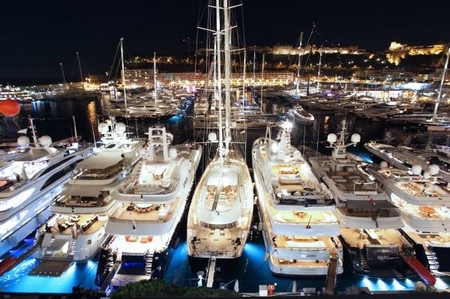 The grandiose Monaco Yacht Show exhibition welcomes its participants and guests every year. This brand event deals with the luxurious yachting of the world scale. The prestige of this exhibition undoubtedly has a high world rating.
The majority of the presented vessels touch the smooth water surface for the first time in the atmosphere of this priority brand. More than 20.000 VIPs from all over the planet participate in this exclusive event. The ordinary tourists, who arrived to have a rest on the beautiful seacoast, don't stand aside the romantic events. The king of Monegasques Albert Grimaldi doesn't miss the colorful yacht show and pleases all with his presence.
In 2014 Monaco Yacht Show will start in September, 24. The exclusive show will last for four days in Port Hercules. The yacht show is ready to receive more than five hundred of declared participants this year. 82 chic shipyards, 25 magnificent brokers, 17 original brand-luxuries and a lot of other leading representatives of the yachts industry will be brought to the attention of yachting connoisseurs.
The majority of the companies with the world names are ready to offer the high quality goods of such a kind. Among such companies are the well-known Feadship, reputable Kaiserwerft and others.
The organizing committee of a brand show deals with the magnificent yachts-shows only, while the organization of the night time depends entirely on the participants of the Monaco Yacht Show brand. This performance impresses the most experienced connoisseurs of the great shows.
The spectacular Only Watch auction is the integral part of the event. The part of the profits will be given away to the different charity funds and associations. Management of the exhibition dedicates the particular amount of income to the innovation projects dealing with the protection of the global ecology.
We will assist you with:
Please fill out the application form indicating your preferences and we'll contact you as soon as possible.