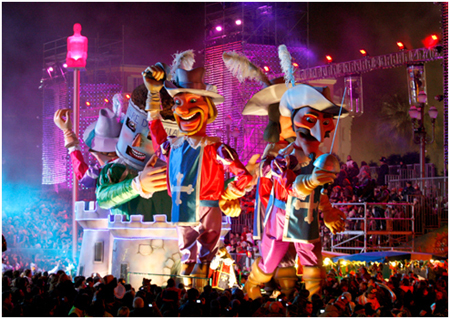 Nice in February is full of puzzles and surprises and one of the greatest surprises for tourists is Nice Carnival. By the way, it is one of the three greatest Carnivals in the world with a rich history. The inception of this fantastic festival became possible thanks to Duke of Anjou who visited Nice in 1294 in order to live for a few days in this thriving land. Since then balls, fireworks shows, actors and acrobats have burst into Nice and the flame of cheerfulness and fun suddenly enveloped the whole city, the residents of which – both aristocracy and poor, old and young – were dancing to the catchy melodies and threatening each other with the weird masks.
Nowadays, Nice Carnival lasts for fourteen days during which citizens and guests are celebrating the event. In the evening all the participants are expected to choose the queen of the festival.
During the Carnival Place Massena (Massena Square) alters and turns into a real stadium. The adjacent houses are decorated with plywood walls painted by over a hundred artists. Effusive masters stun the neighborhood with the whooping and rollicking jokes aimed at cheerful bystanders. The impressive illumination of the Place consists of more than 150,000 light bulbs shining brightly in the night sky. Much attention is paid to pyrotechnics, thus all the streets are covered with the puffs of fire and smoke. Even the passersby try to spray your face from a can purchased nearby.
Nasty substance that resembles colorful confetti comes out of the spray cans. Hardening while flying, it makes the whole face, clothes and even the street walls look as if they were plastered with colorful vinaigrette.
Each year the name of the Carnival changes in favor of a new theme, thus all the grand decorations are arranged to fit a particular celebration and represent its unique mood.
We will assist you with:
Please fill out the application form indicating your preferences and we'll contact you as soon as possible.