Festival de la Plaisance – Nautic Show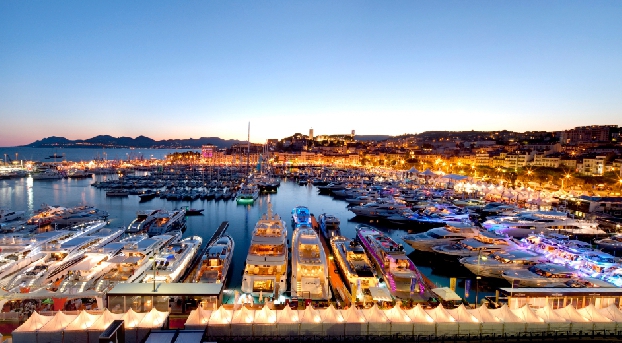 The annual exhibition in Cannes Festival de la Plaisance – Nautic Show is always successful, although the quantity of participants has slightly decreased recently. Moreover, there are more than enough ordinary spectators. A wide range of water vehicles of world-class performance is offered to their attention.
A memorable moment of the last exhibition was a boat represented by Fairline Squadron 65. The boat had the basic features as for the yacht of this shipyard. It is reliable and easy to operate. Besides, it has high-quality characteristics of the running gear. On the other hand, the new exclusive model Ferretti 560 turned out to be a medium sized yacht, which made it very convenient for the family vacation.
The Italian concern Azimut-Benetti Group has brought 8 premiere projects to a global event of the last year. The most impressive one was the 100 Leonardo project. Size of the boat and extraordinary design of the interior impressed. This model was designed for VIP-customers. Other boat models have also found their fans of the water transport.
Festival de la Plaisance – Nautic Show exhibition presents the most well-known names. The products of some companies are often available only to the most elite customers who are ready to spend billions of dollars for the sake of the marine toys.
The British company Princess Yachts annually presents its best models at the Festival de la Plaisance Nautic Show.
A wide range of sailing water vehicles at the Festival de la Plaisance – Nautic Show strikes with their beauty as always. The new original projects are called Zeydon Z60 and Marten M49. They represent a segment of the cruise-racing yachts.
France always pleases with the new models at the exhibition. Last season it was Grand Soleil 54. A worldwide known company Beneteau brought several projects of different profile, which included both sailboats and motorboats, to Cannes.
The exhibition would be impossible to imagine without the French catamarans, which are the regular participants of the brand shows. The innovations of the global Fountain Pajot company surprise even the most sophisticated participants of the exhibition.
Polish companies do not stand aside the brand-shows. The quality characteristics of the models they offer are not worse than the ones of the Western Europe companies.
We will assist you with:
order and delivery of the concert, exhibition, conference and other event tickets;
cook services, catering and many other things.
Please fill out the application form indicating your preferences and we'll contact you as soon as possible.