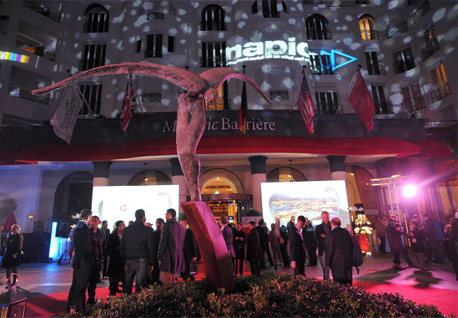 The MAPIC exhibition on the real estate sale has the international level. It takes place in the remarkable resort of Cannes in France. Nowadays this is one of the largest world-known exhibitions. It is carried out in the Palais des Festivals et des Congrès. More than eight thousand representatives from different parts of the world gather at it.
More than 11509 square meters of Palace Square are allotted to MAPIC. About 1.000 large building companies from 71 countries of our planet are ready to offer their projects. This event takes place under the thorough attention of more than 150 journalists. The information they receive while working at the MAPIC exhibition is reflected in all mass media of the world scale.
The showroom of the Cannes Palais des Festivals et des Congrès is welcoming both state and private investors.
The shopping centers developers from all over the world and the ingenious figures of the architectural art present their projects at MAPIC. Moreover, large consulting companies that are ready to answer any real estate query are also present on the exhibition.
The international MAPIC exhibition is the market of the new concepts and grandiose projects. It is some kind of a professional skills' factory of the world scale.
The importance of the MAPIC exhibition lies in the fact that business relations between the investors of different levels, sellers and other real estate specialists are being formed in the course of its work.  This leads to the formation of new real estate trade areas. The MAPIC exhibition allows the partners to improve their relations on the international level.
The international MAPIC exhibition in Cannes works only for three days. Representatives of every country can become its participants and offer competitors their projects. Moreover, they may adopt the innovative ideas of the real estate projects and their promotion on the international sales market.
Don't miss out on the opportunity to visit this event of the "network" format as here you will definitely come to the beneficial solutions in terms of cooperation. Be in touch of the latest exhibition events and do not miss the MAPIC Awards ceremony that will close the International MAPIC exhibition in Cannes.
We will assist you with:
order and delivery of the concert, exhibition, conference and other event tickets;
cook services, catering and many other things.
Please fill out the application form indicating your preferences and we'll contact you as soon as possible.