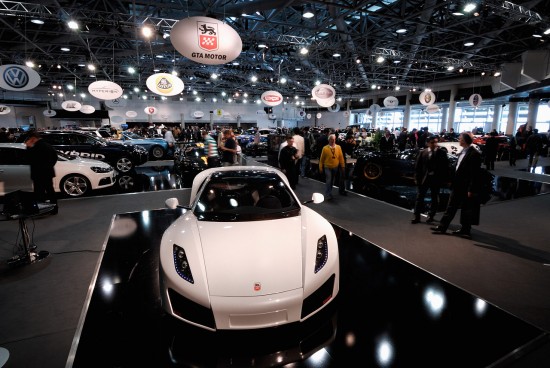 It has been the ninth time already that the annual Top Marques exhibition took place in Monaco and  this time the guests of the festive event had the privilege to enjoy the views of the most luxurious cars, unique yachts and elegant jewelry. Lasting for about four days as usual, the exhibition has been arranged at the Grimaldi Forum with the comfortable aisles to walk through while viewing the luxuries exposed at the event.
Among the visitors of the exhibition were such famous people as His Majesty Prince Albert II, who appeared at the opening of the event in person, the couturier by trade and vocation Tommy Hilfiger, a former professional football player Sonny Anderson and a stunning beauty Pamela Anderson.
The territory of this year exhibition hall exceeds the area of the last year's by a quarter. Guests had the opportunity to view more than forty stands, which were displaying the most prestigious brands that earned the international renown. The Diaghilev hall had the honor of receiving the most prominent manufacturers of  the "luxury" class goods. The list included the Fashion for Floors Company from Monaco which did the excellent job in designing of their exhibition stands.
The Ravel hall, which contained about sixty luxury vehicles, could boast with the innovations in the automotive sector. The guests of the ceremony were constantly reminded that almost thirty of them could be taken to a kind of a test-drive. To make it happen, the organizers of the exhibition kindly provided a lap of a Grand Prix track, where the Formula-1 competition is held.
This hospitable reception came as no surprise taking into consideration their concise yet relevant motto "Look! Try! Buy!". The sale profits made in a short period of the exhibition amounted to about 250 million Euros, adding to the exact same sum earned for a show itself.
We will assist you with:
order and delivery of the concert, exhibition, conference and other event tickets;
cook services, catering and many other things.
Please fill out the application form indicating your preferences and we'll contact you as soon as possible.